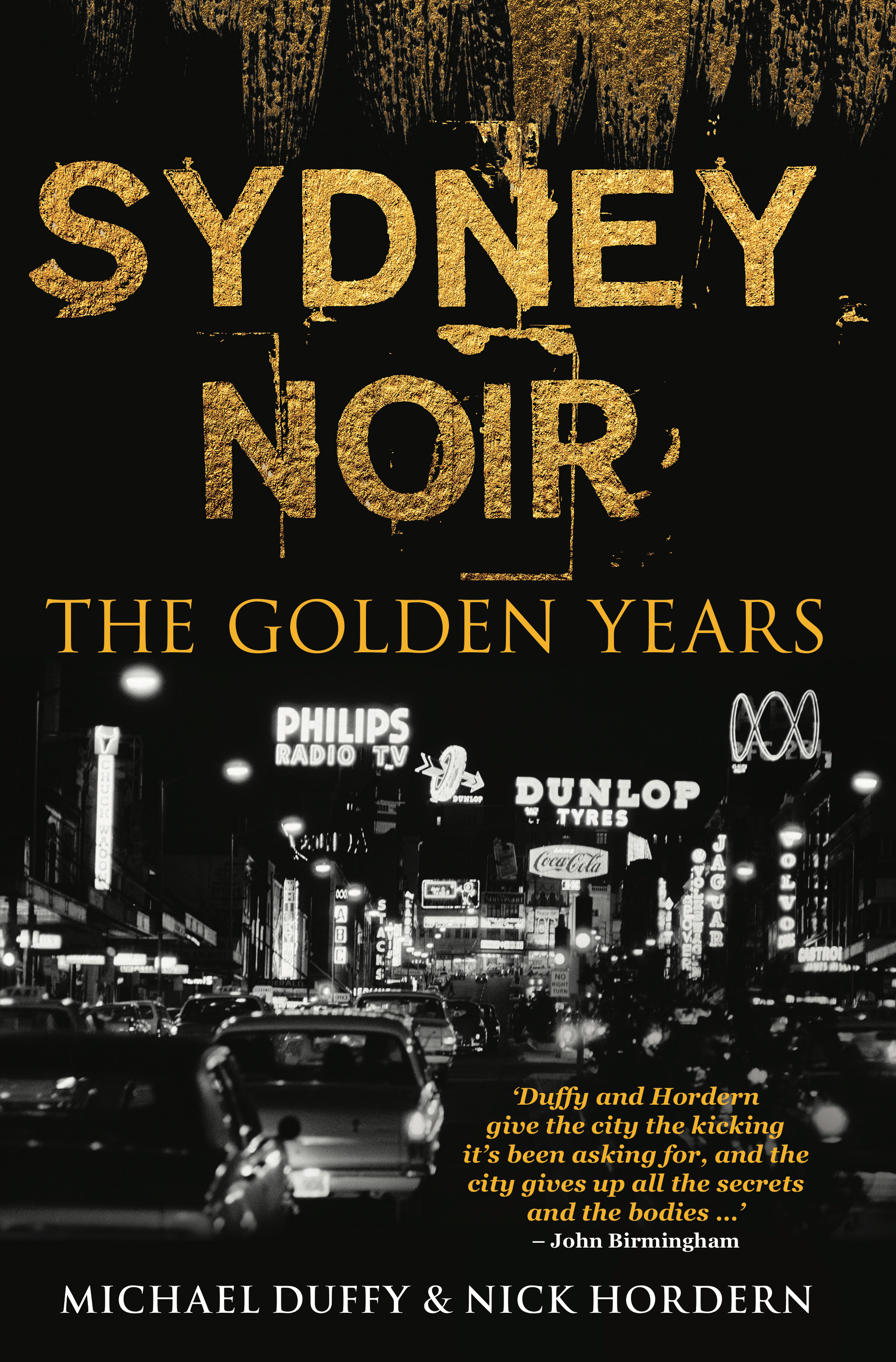 Reviewed by Paul Henderson
Sydney Noir The Golden Years by Michael Duffy & Nick Hordern
Publisher: NewSouth Publishing 2017
ISBN: 1742235441, 9781742235448
RRP: $34.99 (pb)
 This book covers underworld activities in the city of Sydney, 1966 to 1972.  These dates were chosen because 1966 was the year of the death of the notorious Inspector Ray Kelly and in 1972 there was the murder of Jan O'Truba, a heroin dealer, and the start of the modern Sydney drug trade. The authors note at the end of the book that " … whatever view one takes, it was a fascinating and important period in Sydney's history", with which I agree totally.  However, in the way in which these years have been written about, I think the authors did not necessarily choose the best way to present them.
Sydney Noir The Golden Years is a book about people and happenings in Sydney involving criminals, crooked police, drugs, prostitution, clubs, casinos, abortions, bribery and corruption.
The book is divided into eight chapters: one devoted to each year, 1966 to 1972 inclusive and the eighth chapter which looks at whether the then premier, Sir Robert Askin, was himself corrupt.
Sydney Noir The Golden Years is a very comprehensive sweep involving a large number of people over this period. The authors, as well as describing all these goings-on, are also mindful in noting the social, economic, political and cultural changes that were occurring at a rapid rate.
The book is really a catalogue of these seven years. It commences with events at the start of 1966 and finishes with events at the end of 1972. Hence there is a lack of continuity of topics throughout and analysis is sometimes lacking. The reader has just settled into one story and the book jumps to another. For example, the chapter on 1970 consists of 37 pages and 15 stories, one story of which goes for seven pages. Take that story out and you have 14 stories in 30 pages.
The chapter jumps from the death of a policeman, to abortions, to sex workers sent to Singapore, to a brothel matron, to illicit drugs, to a casino club, to the murder of a criminal. And so it goes on. I believe the book, while being good, would have been much better had there been no chronology of events in each year, but rather have themes for each chapter, such as corrupt police, criminals, prostitution, drugs, the clubs, key players, all of which cover the whole seven years.
One of the people who is mentioned throughout the book is Shirley Brifman. One would be forgiven for thinking that, except for Premier Robert Askin, at some stages she was almost running the state of NSW. She was a brothel madam, a prostitute who had sex with a number of police officers, including those at the highest level.  Brifman became a go-between for the crooks and the police. At one stage, Brifman claimed she had "dealings" of various kinds with 33 police.
She put her young daughter into prostitution, amid much controversy, and later had a major falling out with senior cop Fred Kruhe, after which she became an informer against some police.  She died in 1972 in unknown circumstances in Brisbane.
A good portion of the book deals with criminals, who all seemed to have nicknames, and their nefarious activities. Starting Price bookmakers were everywhere, as TABs were yet to be common.  Although, not a serious crime, even the premier took part in this illegal betting.  Names of crooks included, Lennie "Mr Big" McPherson, Abe Saffron, John "The Magician" (because he made people disappear) Regan, George Freeman, the corset gang, Richard Reilly, who was murdered, as was Joe Borg. The list goes on.
The crimes these and many others were involved in stretch across the spectrum of activities. Some, such as illegal betting, were relatively minor offences but others were serious. Many stories in the book relate to some of the criminal activities, such as: money laundering, bribes, standover tactics, murder, bullying, dealing in illicit drugs, prostitution, brothels and stealing. Most of the gang leaders and their associates were amoral and ruthless, and would stop at nothing to get what they wanted.
Many of the police, particularly those holding senior positions, come across as bad, if not worse, than the criminals they were meant to be chasing. Like the criminals, they also had nicknames. Sydney Noir The Golden Years is full of stories of police taking bribes, working in cooperation with criminals, frequenting brothels, turning a blind eye to prostitution and illegal clubs. The authors correctly say these police were totally corrupt.
Very senior officers such as Police Commissioner, Ray Allen, Assistant commissioners Ray Kelly and Fred Kruhe (who replaced Kelly), Mick Phelan, Don Ferguson and many, many others come across in the book as corrupt, lying low-life individuals. Criminal George Freeman wrote that "… I've known many crook police, but Krahe stood out." In the later years, police informants and "straight" police did turn things around
TV programs, for example Four Corners and This Day Tonight, ran stories about police corruption. Police informants such as Philip Arantz and journalist Bob Bottom also disclosed police corruption. Darcy Dugan, a criminal released from jail, turned on his former friends, until he himself was framed and wrongly sent back to jail by corrupt police. A corrupt magistrate, Murray Farquhar, who later ended up in jail himself, cleared a policeman of consorting with criminals. There are numerous accounts of police corruption.
The most interesting chapter by far is the last which examines closely   Sir Robert Askin, who was NSW Premier during the Sydney Noir years. This is the only chapter which has a theme running through it and is not just a chronological account of events. In the introduction, Duffy and Hordern conclude that although nearly four decades later "… Askin's guilt is taken as a given … the case against him is largely circumstantial, and it is our argument that other circumstances, at least in retrospect, point to other explanations" to explain Askin's wealth.
Robert Askin became premier after the Liberal-Country Party won the New South Wales State Election in 1965 and remained in that position until early 1975, winning three more elections in 1968, 1971 and 1973. There is no doubt that Askin was a keen gambler who frequented SP "starting price" bookmakers, which was illegal, visited clubs, mixed with businessmen and high flyers. He strongly opposed brothels, with little success and he was a clever and successful premier.
Although there is no real evidence of Askin being corrupt or accepting bribes, he may well have turned a blind eye to some of the things around him, especially as at some stage he was also Minister of Police. He was premier during the Australian involvement in the Vietnam War during many of the accompanying protests.
As the authors point out, other people have accused Askin of conspiracy, in the pay of certain bookmakers, corrupt, but with little or no concrete evidence and most of the people who may have been able to say one thing or another about him are long dead. True, Askin left a large estate, but it may well have been the result of careful investments, shares and that he was also a successful gambler. He had inside knowledge about company transactions, which could be an abuse of power, but it is a long way from taking money regularly from criminals. Other authors and researchers have found no evidence of corruption. I believe the authors of Sydney Noir are right about Askin.
This is a good book to read, as it is well researched and tells a fascinating and interesting story. It explains to the reader a great deal about these years in Sydney. However, it would have been better presented it in a different format. Also, given the many nasty events that occurred as outlined in this book, I am not sure that the subtitle, The Golden Years, is appropriate.
Paul Henderson is an author and educator