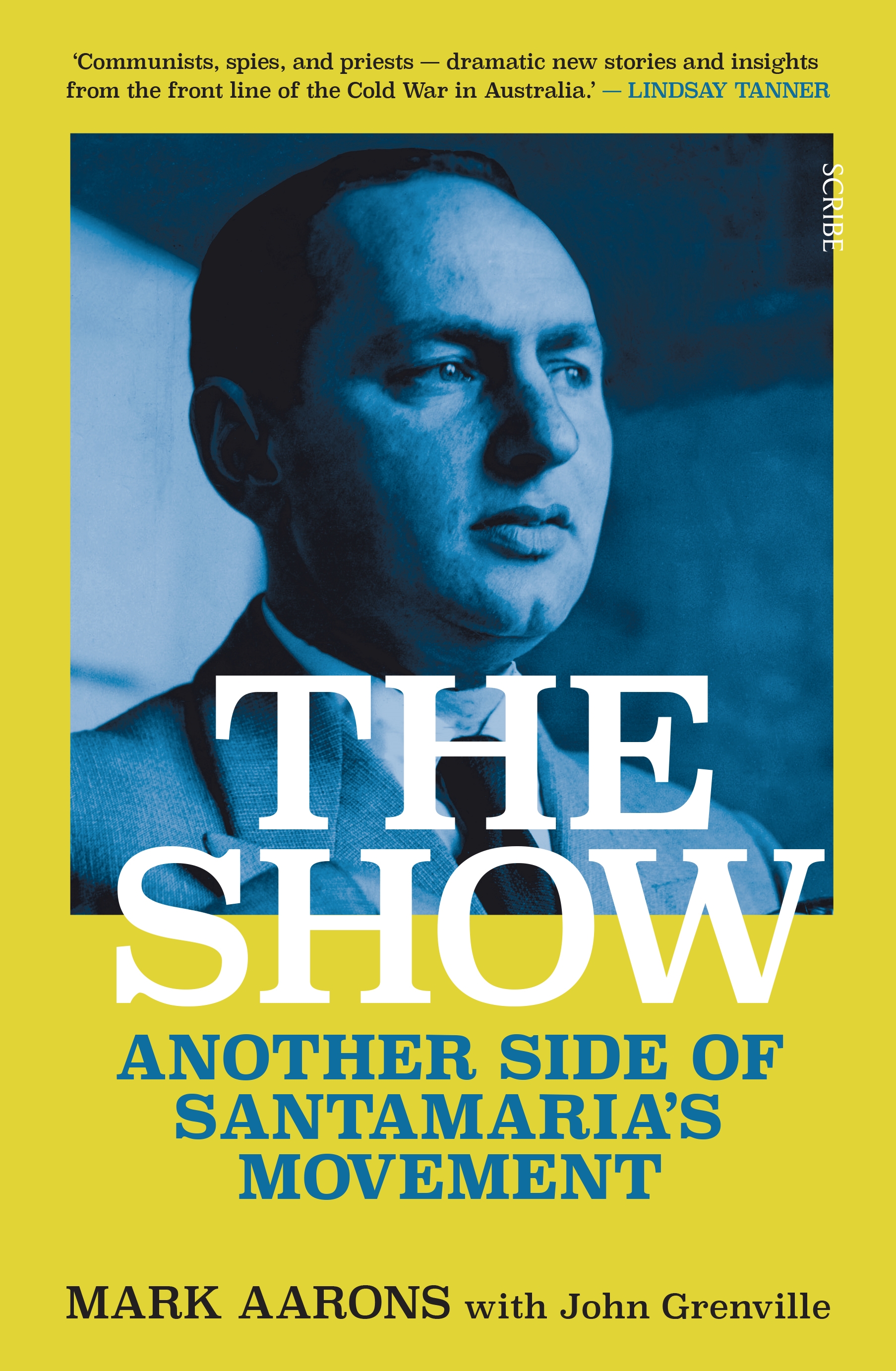 Reviewed by Gerard Henderson
The Show: Another Side of Santamaria's Movement By Mark Aarons with John Grenville
Publisher: Scribe Publications
ISBN: 9781925322316
RRP: $32.99
 In 1991, the taxpayer funded Australia Council provided Mark Aarons – then an investigative reporter with the taxpayer funded Australian Broadcasting Commission – with a grant to write a parallel history of The Movement and the Communist Party of Australia. The Catholic political activist B.A. Santamaria (1915-1998) set up The Movement (the Catholic Social Studies Movement, which in late 1957 became the National Civic Council) circa 1942.   Mark Aarons is the son of Laurie Aarons (1917-2005) who was the CPA's national secretary from 1965 to 1976. The Aarons family was involved in the CPA from its formation in 1921 until its demise seven decades later.
When Mark Aarons met John Grenville
It may have seemed a strange decision for the Australia Council to fund a parallel history of The Movement and the CPA to be written by a one-time Communist Party operative.  In any event, Aarons enlisted his friend John Grenville, a Catholic who had been active in the National Civic Council between 1957 and 1975, to lend a hand.  Interviewed by Phillip Adams on Late Night Live on 10 August 2017, Aarons referred to his first meeting with Grenville four decades ago:
Phillip Adams: Tell me about your co-author John Grenville. How did this unlikely double act happen?
Mark Aarons: Well it was a fascinating event in my life when, as a young, would-be investigative reporter — almost exactly forty years ago — on a very bitterly cold Melbourne morning I knocked on his door in Brighton. Because I had been investigating allegations of the intelligence connections of what was then known as the National Civic Council, the NCC – known by its membership, affectionately, as "The Show." And I'd been informed by one of my sources that John Grenville had some documents that might be very useful to my investigation. He welcomed me into his house, he asked me if I would show him my Communist Party membership card because he'd never seen one. I dutifully complied and—
Phillip Adams: I hope he showed you his rosary beads.
Mark Aarons: No, but he showed me much more interesting things….
Thus commenced a long friendship which led to Grenville's name being on the cover of The Show: Another Side of Santamaria's Movement. As Aarons writes in the preface:
Many events intervened in the more than twenty-five years since research for this book began, not least a serious horse-riding accident that befell my close collaborator and advisor, John Grenville, which left me without a compass to guide me through the maze of the Catholic side of the story. I knew the communist part well, having been brought up in a prominent CPA family, and our plan was to use our inside knowledge of the two political movements to track some of the most significant Australian political developments of the 20th century in as close to a "real time" history as could be constructed from hitherto inaccessible historical records.
This book is a more modest but, I hope, still worthwhile enterprise.  It is not a history of The Movement, nor a biography of Santamaria….  The primary purpose of this work is to provide an analysis of the impact of Santamaria's decision to model his Movement (for it was his from the beginning) completely on the Communist Party.  This book's major theme, therefore, is the impact that importing the CPA's chief characteristic of the early 1940s – Stalinism – had upon The Show's development, operations, and virtual demise upon Santamaria's passing.
And so it came to pass that The Show has been written by a former CPA operative, who was a long-time critic of Santamaria, with the assistance of former NCC operative, who was also a long-time critic of Santamaria.  With a little help from a taxpayer funded grant.
The Communist Party & The Movement as (alleged) parallels
In spite of the fact that their work commenced as a parallel history of The Movement and the CPA, The Show says very little about the latter. This is very much a hatchet job on The Movement and Santamaria by two of his opponents. One of whom is a long-time antagonist – the other a colleague who split with the NCC and who seems intent on seeking revenge by firing accusations at his erstwhile colleagues, some of whom have been dead for decades and, obviously, have no right of reply.
I have known John Grenville for close to half a century.  He is a very intense personality and a great hater.  In his book The Family File (Black Inc, 2010), Mark Aarons demonstrated that he could be critical of but sympathetic to members of the Communist Party.  It's difficult to imagine that Grenville would have even one kind word to say about Bob Santamaria or his one one-time offsider John Maynes – or The Movement to which Grenville once belonged. Grenville fell out with both Santamaria and Maynes as they fell out with each other in The Movement's very own split in the late 1970s and early 1980s.
According to the book's cover, The Show is based, in part, on extensive oral history interviews.  This is misleading. The author has interviewed Santamaria critics.  Namely, Grenville himself plus his Brisbane based associate John Forrester (who split with the NCC around the same time as Grenville) plus former Catholic priest John Challis plus David Shinnick along with "a former Movement member who wishes to remain anonymous" and other similar anonymous sources.  Indeed, 20 of the 27 endnotes to the chapter titled "The ghost of Stalinism", cite Grenville as the source. The Show's coverage of The Movement is very much the Gospel according to John Grenville.
The Show is a bit of a mess as a work of history.  The author refers to six main sources – (i) Australian Security Intelligence Organisation (ASIO) files, (ii) files of the NCC in South Australia which are in the Noel Butlin Archives Centre in Canberra, (iii) some material lodged at the State Library of New South Wales, (iv) some material at the State Library of Victoria (v) legal documents pertaining to an action taken in the Supreme Court of Victoria by Movement member Gerald Mercer whom Santamaria moved against at the time of the NCC Split and (vi) interviews with former NCC and CPA operatives.
In spite of the fact that the State Library of Victoria (SLV) contains the Santamaria Papers – there are only a few citations of this material.  Also, there is no reference to the Maynes Papers which have also been lodged at the SLV.  It seems that the inability of the Victorian based Grenville to be the Sydney-based Aarons' "compass" has led to a lack of research in Melbourne where Santamaria lived his entire life and where The Movement (commonly referred to by its members as "The Show") was founded and based. This is a weakness.
The Santamaria Papers have a 40-year embargo – i.e. the files are currently available up to 1977. This means that there should be material about Grenville available to the author of The Show – since Grenville split with Santamaria in 1975.  There is no evidence of any such material in this book and it can only be assumed that this research was not undertaken.
With respect to oral sources, Aarons exhibits a degree of naivety. He broadly accepts what people tell him – without conceding that some individuals do not tell the truth while others have bad or incomplete memories.  For example, The Show cities former priest John Challis quoting Fr Harold Lalor SJ (1911-69) saying that in mid-1954: "We now have the numbers to replace Dr Evatt, Stan Keon will be the new leader and the next Prime Minister of Australia".  In other words, Aarons is willing to use direct quotation marks with respect to Challis' recollection in 2014 of what he (allegedly) heard Lalor say six decades earlier.
Now, Lalor may have made a comment like the one Challis recalls – but this does not mean that what Lalor allegedly said was accurate. Lalor at the time was a Catholic priest who had little idea of what was going on in the Labor Party caucus in Canberra.  It's far from clear that Stan Keon was ever destined to replace Evatt and become Labor leader. Santamaria never indicated he believed Keon was suitable for the job in the mid-1950s and there were many Labor parliamentarians senior to Keon.  Moreover, it is difficult to imagine a confirmed bachelor like Keon leading a major political party anytime in the 1950s.
The fact is that Harold Lalor was a showman and an exaggerator and there is no evidence that Santamaria, or others in The Movement, took him all that seriously.  Except, apparently, for Lalor's (then) fellow priest John Challis, who became a bitter opponent of Santamaria over half a century ago.  In the mid-1950s, Lalor was moved from Melbourne to priestly duties in Hobart, indicating that Santamaria did not regard him as central to The Movement's work.
Santamaria and Stalin (falsely) compared
Santamaria always acknowledged that he modelled The Movement on the CPA.  In his memoirs Against the Tide (OUP, 1981), Santamaria wrote that "the Communist organisational method had stood the test of time and my proposal was that we should copy it". By this, Santamaria meant that The Movement should get its members to join the Labor Party and trade unions and other institutions and set up "front" organisations to engage in public debate.  Santamaria and his followers never advocated that The Movement should engage in acts of violence, still less revolution.
If Aarons had written that Santamaria was akin to a Bolshevik, or perhaps even a follower of political tactics of Vladimir Lenin, that would have made some sense.  However, Aarons' claim that Santamaria exhibited a "Stalinist style" or engaged in "Stalinist tactics" is mere hyperbole.  Likewise, his claim that Santamaria in full oratory mode can be compared to "successive North Korean dictators". As Aarons well knows, Stalin killed tens of thousands of his opponents and locked others up in the gulag.  He was also responsible for the forced famine in the Ukraine and the deportation of nationalities and more besides – plus the Nazi Soviet Pact of August 1939 which effectively commenced the Second World War.  In short, there were literally millions of victims of Stalinism – but The Movement killed nobody.  Certainly, Santamaria gave many long speeches to his colleagues – but no one who fell asleep during his orations were executed North Korean style.
Sure, Santamaria developed his own cult of personality – but within a democratic framework.  Those who could not accept this, left or were pushed out of The Movement.  That was about it.  There is an unpleasant double standard in the son of a one-time dedicated follower of Stalin accusing one of Australia's best known anti-communists of Stalinism.
The Movement – ASIO link exaggerated
Since the "major theme" of The Show is the impact that importing Stalinism had on The Movement's developments and operations, the book fails in its essential aim.  The secondary theme of Aarons' work is that The Movement was "an effective clandestine intelligence agency" which had close links with the Australian Security and Intelligence Organisation.
Here the problem with The Show again turns on its lack of "compass" into Santamaria.  The Movement was set up in 1942 or perhaps 1943 as an entity in Melbourne.  It became a national organisation in 1945 with the formal backing of the Catholic archbishops and bishops.  In the mid-1950s, the Catholic Hierarchy split – with half the bishops (led by Archbishop Daniel Mannix in Melbourne) supporting Santamaria and half (led by Cardinal Norman Gilroy in Sydney) opposing him.
When The Movement commenced in the early 1940s, Santamaria was based in Melbourne at a time when interstate travel was difficult (due to war-time travel restrictions) and expensive.  Aarons produces evidence that Fr Paddy Ryan in Sydney in the 1940s and early 1950s and Fr Harold Lalor (when in Perth in the early 1940s) co-operated with ASIO or its predecessors. It is not clear that Santamaria controlled either man. At his first opportunity, Santamaria removed Ryan from running The Movement in Sydney and he never embraced Lalor. Santamaria liked working with men who looked up to – and followed – him. Ryan and Lalor were not such types. Also, both had a conspiratorial mindset and found involvement in political activity to be a relief from their routine priestly obligations.
There is no compelling evidence to support Aarons' thesis that Santamaria was close to ASIO or its predecessors from the time The Movement was formally established in 1945 until at least two decades later. During the Cold War, a number of anti-communist individuals and organisations provided information to ASIO. Also, a number of ASIO operatives were Catholic and would meet fellow anti-communist Catholics at mass on Sundays. It is not surprising that ASIO accepted such intelligence. But this does not mean that ASIO believed in – or acted on – what it received.
One of the problems with The Show is that the evidence does not fit the book's thesis. The three volume official history of ASIO is written by David Horner (volume one), John Blaxland (volume two) and John Blaxland and Rhys Crawley (volume three) does not reveal any close continuing link between The Movement and ASIO.
As Aarons acknowledges, the evidence for his thesis is almost non-existent. For example, there is only one document in ASIO files which mentions the possibility that The Movement in Victoria was co-operating with ASIO.  And it is a query from ASIO headquarters in Sydney about "how the Victorian office went about it" – i.e. getting men to infiltrate the CPA. Yet there is no evidence that any such co-operation ever took place – the question could have been based on an unfounded rumour that made its way to ASIO headquarters.
The only direct evidence in The Show linking Charles Spry, ASIO's director-general, with Santamaria's Movement consists of a Spry memo (dated 5 May 1954) where Spry agreed with a recommendation that "friendly relations should be maintained" between The Movement and ASIO. That's all.  There is nothing controversial here. It is to be expected that a security intelligence organisation during the Cold War would have friendly relations with an anti-communist movement
In his chapter titled "The Show and ASIO", Aarons writes:
The fundamental question…is: What happened to the files relating to ASIO's successful operations utilising Victorian Movement members as penetration agents inside the CPA?  All inquiries to unearth them have been fruitless, and it must be assumed that either they were lost or destroyed before the Archives Act came into force in 1983. [Emphasis in original.]
Aarons overlooks the most obvious answer to his query.  Namely, that no such documentation ever existed.  Instead he opts for a conspiracy/cover-up theory:
Stories have circulated for over forty years suggesting that files documenting ASIO's direct relationship with Santamaria were maliciously destroyed to pre-empt the Whitlam government learning of ASIO's "hand in glove" operations with the ALP's deadly political opponent, which had helped keep Labor out of office for seventeen years. The destruction of such records was variously said to have occurred either in 1973 – when then attorney-general Lionel Murphy seized official ASIO records contradicting successive Liberal governments' denials about the activities of  the Croatian terrorists, and it was feared his next move would be to seize the Santamaria dossier – or, alternatively, when Whitlam established the royal commission into Australian intelligence the following year, and it was feared that the dossier would emerge during its deliberations.
Here Aarons relies on undocumented "stories" from anonymous sources about what was "said to have occurred" in 1973 or perhaps 1974. There is also a reference to what was "reportedly" written in the unpublished volume of the Hope Royal Commission (the Royal Commission on Australian Security and Intelligence Agencies). But this is just hearsay.  In any event, such material has not been located by the author of ASIO's official history covering this period – who read the Hope Commission's unpublished volume.
It's possible, just possible, that documents concerning The Movement were destroyed as part of a policy to remove certain information regarded as detrimental to the reputation of some individuals who were not a security risk – and who should not have been regarded as such.  Such work was commissioned during Justice Edward Woodward's period as ASIO director-general between March 1976 and September 1981. He oversaw a lot of destruction of documents. Such actions are invariably unwise since they can lead to conspiracy theories about what were mundane bureaucratic decisions. Certainly, Woodward was not an admirer of Santamaria or The Movement and had no reason to protect either.
It is true that in 1990 Santamaria told journalist John Lyons that he handed material on Communist Party members and communist fellow travellers to ASIO for four years in the early 1960s. But even here there are doubts – as Aarons himself concedes:
Interestingly, a search of the royal commission's indices held by the national archives in Canberra does not readily disclose the material to which Santamaria referred.  This does not mean that it does not exist in a form not easily discernible from studying the indices. Much of the commission's documentation is still highly classified and therefore is unavailable to public researchers, making a final determination of this matter impossible at this time.
That's right.  Aarons does not know since it is impossible to determine the matter at this time. In short, there is no compelling evidence to support the book's secondary theme that The Movement had a "close relationship with official intelligence agencies – especially the Australian Security Intelligence Organisation".  Sure, The Movement collected intelligence about its political opponents. Overwhelmingly, this was attained by reading Communist Party newspapers and journals and monitoring the media as well as attending and reporting on Labor Party, trade union and public meetings. ASIO would have undertaken such activity itself. What was different between the two organisations is that ASIO penetrated the Communist Party and The Movement did not.
Aarons fails to understand how difficult it would have been in the 1940s and 1950s for a practising Catholic to join the Communist Party – this would have been banned by the Church and caused immense difficulties within his (and it would have been a "he") family since any children would almost certainly have attended Catholic schools.
The mystery of Santamaria's leaked 1945 secret documents
So, if there was no link between The Movement and ASIO – and since there was no resemblance between Bob Santamaria and Joe Stalin – then neither thesis of The Show holds up.
This may explain why, in his discussion with Phillip Adams on Late Night Live, Mark Aarons took up considerable time in discussing the following reference in my book Santamaria: A Most Unusual Man concerning the leak of Santamaria's secret 1945 report to the Catholic Hierarchy:
Less than three dozen copies of the 1945 report were printed – one for each archbishop and bishop. Those attending the hierarchy's extraordinary meeting in Sydney were advised of the highly confidential nature of the document. James Duhig took the instructions so much to heart that when travelling overnight from Brisbane to Sydney, he placed the document under his pillow. It seemed like a good idea at the time. Except that when disembarking at Sydney's Central Railway Station, the Archbishop of Brisbane forgot to check his bed. The top-secret document was discovered, presumably by a unionist with connections to the Communist Party, and handed over to the CPA. Subsequently, it formed the basis of the pamphlet Catholic Action at Work, which was issued anonymously by the Australian Communist Party and included a two-page photocopy of Santamaria's 1945 document. A substantial report on Catholic Action at Work was published in the June 1946 issue of left-of-centre magazine Tomorrow.
In Against the Tide Santamaria wrote that the document was left by a bishop on the train.  In an essay in Jim Davidson's edited collection The Sydney-Melbourne Book (Allen & Unwin, 1986), I identified the person as Archbishop James Duhig – since Santamaria had told me about Duhig in the early 1970s. Grenville advised Aarons in March 2016 that Santamaria had told him about Duhig in the late 1960s or early 1970s – i.e. about half a century earlier. It's possible that, in this instance, Grenville has a "recollection" of an event that never occurred.  I believe that I was the person who first became aware that Santamaria had named Duhig (in a personal conversation) as the bishop who left the document on the train. Certainly, I was the first to make this point in print.
It seems an uncontroversial matter. However, in The Show Aarons writes that, in an address to The Sydney Institute in May 2011, he said that the document was not left on the train but it was handed to the Communist Party of Australia's Melbourne office. In fact, in his 2011 address, Aarons indicated some confusion about this point. He said that "none of the CPA officials involved in the affair" believed that the document was left on a train. In The Show, Aarons writes that one-time CPA operative Jack Blake was "adamant that the document was…an anonymous Catholic source [emphasis in original]". But at The Sydney Institute in 2011, Aarons acknowledged that "the possibility exists that a printer sympathetic to the CPA was the source". In other words, Aarons does not know. In any event, it is not clear how CPA members in 1945 would have known whether an anonymous person handing a document at its Melbourne office was a Catholic.
Aarons relates that he was motivated by Grenville to check out Santamaria's account. In 1991, he interviewed two former Communist Party members – Jack Blake (then aged 82) and Jack Hughes (then aged 81) and reports that they said the 1945 document was handed to the CPA office in Melbourne. No other current or former CPA official ever made such a claim at any time between 1945 and 2011 – when Mark Aarons specifically raised the issue nearly half a century after the event. This despite the temptation for the CPA to boast that it had successfully out-flanked Santamaria in this instance, if such a boast was warranted.
On the available evidence, Santamaria's Duhig story makes the most sense. The evidence suggests that the CPA was not too sure about the authenticity of the 1945 document – which would not have been the case if the document had been handed to the CPA by a Catholic or by a presenter or employee of a printer. Indeed, in June 1946 the left-wing journal Tomorrow indicated that it might he "a fake". Certainly, the CPA did little follow-up research. Santamaria was not referred to in Catholic Action at Work – despite the fact that Santamaria is named in the Australasian Catholic Directory 1945 as being assistant director of the National Secretariat of Catholic Action.
The CPA put out Catholic Action at Work in late 1945. Frank Hardy made use of it in his 1950 novel Power Without Glory. And that was about it. The Communist Party believed that Hardy's book had not sufficiently nailed the connection between Catholic Action and anti-communist activity in the Australian trade union movement. Instead, Hardy went off-message with an allegation that "Mrs West" (the wife of the corrupt Catholic businessman "John West") had committed adultery with a bricklayer, no less. "John West" was John Wren in real life. John Wren was a wealthy Catholic businessman who admired Archbishop Mannix but had no contact with Santamaria or The Movement.
At the time of the Labor Split in the mid-1950s – when Archbishop Mannix and Bob Santamaria were targeted by Labor leader Bert Evatt – the 1945 document revealed in Catholic Action at Work was not mentioned by critics of The Movement. Nor did the CPA ever publish the 1945 document in full. It seems that, not long after its discovery, the 1945 document was forgotten until it was mentioned by Santamaria in Against the Tide in 1981 and by me in 1986.
Even in this instance, Aarons and Grenville use the leak of the 1945 document to bag Santamaria's "calumny" with respect to the Catholic Archbishop of Brisbane. This fits into the Aarons/Grenville narrative:
This was not Santamaria's only recourse to the Stalinist trick of revising history to suit his own narrow political and personal purposes.
Indeed, Aarons denotes a dozen pages of The Show – some five per cent of the book – to establishing Santamaria's alleged calumny in this instance. This says more about the author's obsession than his subject's truthfulness.
The Show's thesis not sustained
There is much valuable information in The Show – especially on the disputes which Grenville and Forrester had with both Santamaria and Maynes as the two NCC leaders fought each other in the 1970s and early 1980s. But disputes within political organisations are not uncommon. Like Santamaria, Maynes could be difficult to work with. But he ran a successful operation at the Clerks Union for many years and was involved in the international support by the trade union movement for the Solidarity movement in Poland in the final years of the Cold War.
Santamaria and Maynes were in politics for the long haul. Grenville's involvement lasted less than two decades and he bailed out four decades ago. It's a long time to bear a grudge.
In conclusion, The Show misses its self-imposed mark. It does not establish that B.A. Santamaria was a Stalinist. It does not prove a close working relationship between Santamaria's Movement/National Civic Council and ASIO from the 1940s on.  And it does not demonstrate that Bob Santamaria lied about Archbishop Duhig. In short, the Australian taxpayers are entitled to hold the view that their investment in The Show was not worth it.
Gerard Henderson is the author of Santamaria – A Most Unusual Man (MUP 2015).